This is an example page. It's different from a blog post because it will stay in one place and will show up in your site navigation (in most themes). Most people start with an About page that introduces them to potential site visitors. It might say something like this:
Hi there! I'm a bike messenger by day, aspiring actor by night, and this is my blog. I live in Los Angeles, have a great dog named Jack, and I like piña coladas. (And gettin' caught in the rain.)
…or something like this:
The XYZ Doohickey Company was founded in 1971, and has been providing quality doohickeys to the public ever since. Located in Gotham City, XYZ employs over 2,000 people and does all kinds of awesome things for the Gotham community.
As a new WordPress user, you should go to your dashboard to delete this page and create new pages for your content. Have fun!
Mar
25
Sat
Employment Rights 101 – "Know Your Rights"

@ Pilgrim Baptist Church Fellowship Hall
Mar 25 @ 10:30 am – 1:30 pm
KNOW YOUR RIGHTS training session will be conducted by Charles Brown, Charles is a member of the DE Blacks in Government (BIG) Chapter. Charles has over 30 years experience in federal public service. He served with the U.S. Equal Employment Opportunity Commission (EEOC). His experience includes Program Management, providing Contract Administration for state and local fair employment practice agencies (FEPA), and being selected as a National Trainer for EEOC and FEPA personnel as a part of the National Training Institute. In addition, Charles successfully served as an EEOC Investigator of employment discrimination claims in the federal government, including the U.S. Postal Service, and as a Compliance Supervisor. Charles also possesses experience in Equal Employment Opportunity law enforcement, training, and resolution of claims, which includes the settlement process. Charles earned a Bachelor of Arts from Morgan State University.
The course outline will include:
ANTI DISCRIMINATION LAWS
 Title VII of the Civil Rights Act
 The Age Discrimination in Employment Act
 The Americans With Disabilities Act
 The Equal Pay Act
COVERED BASES
 Age, race, sex, national origin, color, mental or physical disability, genetics, retaliation
 Jurisdiction
Equal Employment Opportunity Commission
Delaware Department of Labor
IF YOU FILE WHAT CAN YOU EXPECT
 Charge processing
 Mediations
 Fact Finding Conferences
 Investigations
 Similarly situated comparators
 Retaliation
 Right to Sue in Federal District Court
DE BIG Chapter
P.O. Box 1781
Wilmington, DE 19899
Email address:  deblacksingovernment@gmail.com
Apr
15
Sat
Empowering Our Sisters: Our Journey to Wellness 2017

@ Christiana Care in the John H. Ammon Medical Education Center
Apr 15 @ 8:00 am – 2:30 pm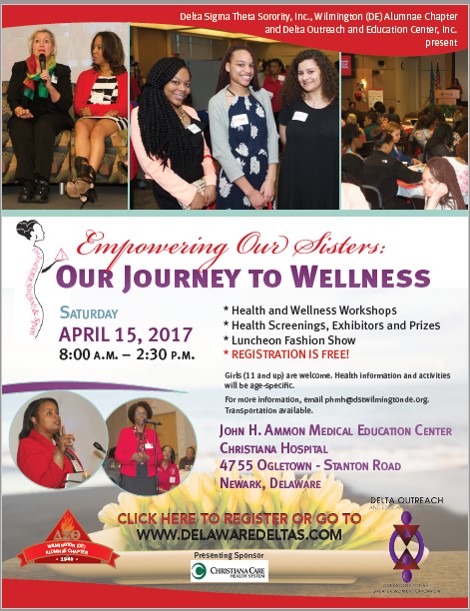 "Empowering Our Sisters: Our Journey to Wellness"
The fourth annual health and wellness summit, "Empowering Our Sisters: Our Journey to Wellness",will be held on Saturday, April 15, 2017 from 8:00 a.m. to 2:30 p.m. at the John H. Ammon Medical Education Center located at Christiana Hospital in Newark, DE. Again, the health summit seeks to empower women and girls to take control of their health by promoting the benefits of a healthy lifestyle. There is a pressing need within our community to elevate awareness of the physical and mental health issues that women and young ladies, ages 11 and over, are facing.
The Summit will focus on health and wellness – body, mind and spirit, with an emphasis on prevention (nutrition, fitness and holistic wellness), chronic disease management (cardiovascular, diabetes, and cancer), mental and emotional wellness, healthy living and lifestyle changes.
A healthy continental breakfast, registration and health screenings will begin at 8:00 a.m. Workshops, sessions and drawings for prizes will occur throughout the day. A free lunch will also be provided. If you need transportation, please email us at phmh@dstwilmingtonde.org.
Parking: To park, follow signs to Lot-T. Guest parking will only be in Lot-T. A free shuttle will pick you up from Lot-T and drop you off at the John H. Ammon Medical Education Center. It will return you to Lot-T after the event.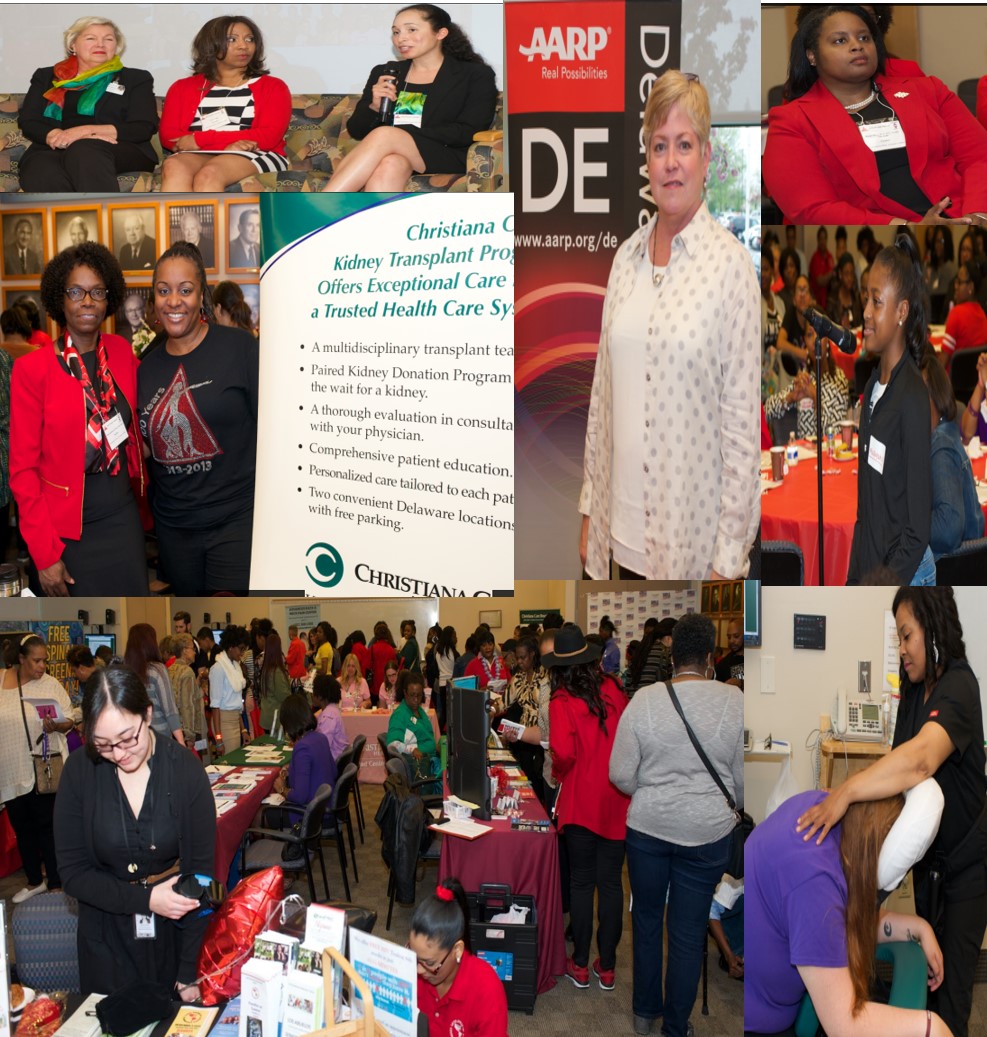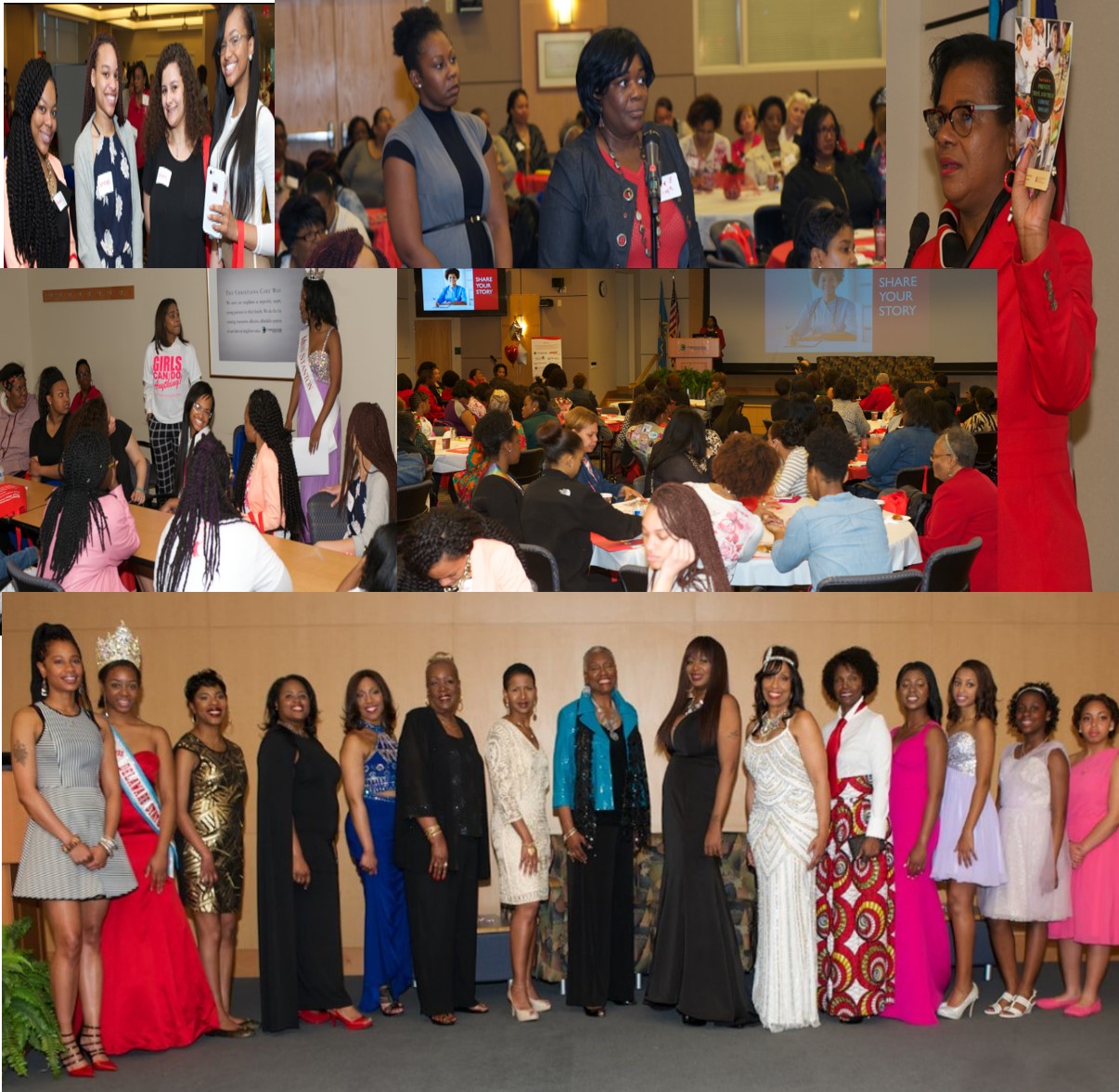 Primary Sponsors
Delta Outreach and Education Center, Inc. (DOEC) is a 501 (c)(3) nonprofit organization that was established in 1993 by the Wilmington (DE) Alumnae Chapter of Delta Sigma Theta Sorority, Inc. Its goal is to provide a variety of community outreach services in the areas of physical and mental health, youth development, education, economic development and political awareness and involvement to Wilmington and surrounding areas. For more informaton, visitwww.doecinc.org.
Wilmington (DE) Alumnae Chapter (WAC) of Delta Sigma Theta Sorority, Inc. (DST) was chartered on March 6, 1949 in New Castle County. Today, the chapter has over 260 members and has been recognized for its comprehensive, innovative and impactful programming. WAC is a recipient of several honors from the national and regional organizations of DST, the Governor's Outstanding Volunteer Award for Community Service, as well as awards from other community and local organizations.  Visit http://www.dstwilmingtonde.org to find out more information about our programming.
My Story, My Strength

@ Chris White Gallery
Apr 15 @ 6:00 pm – 9:00 pm