This is an example page. It's different from a blog post because it will stay in one place and will show up in your site navigation (in most themes). Most people start with an About page that introduces them to potential site visitors. It might say something like this:
Hi there! I'm a bike messenger by day, aspiring actor by night, and this is my blog. I live in Los Angeles, have a great dog named Jack, and I like piña coladas. (And gettin' caught in the rain.)
…or something like this:
The XYZ Doohickey Company was founded in 1971, and has been providing quality doohickeys to the public ever since. Located in Gotham City, XYZ employs over 2,000 people and does all kinds of awesome things for the Gotham community.
As a new WordPress user, you should go to your dashboard to delete this page and create new pages for your content. Have fun!
Nov
10
Fri
Tabernacle Centennial Gala

@ Chase Center
Nov 10 @ 7:00 pm – 10:00 pm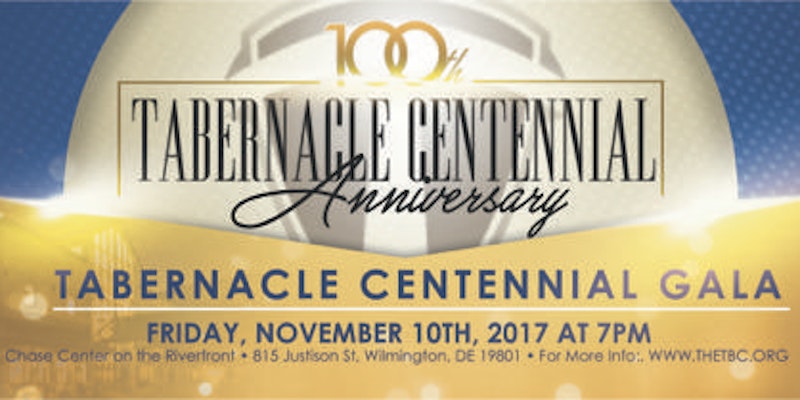 Come Celebrate With Us!
Tabernacle Baptist Church is excited to turn 100 years old and we want to celebrate with you. For a century Tabernacle has been a beacon of hope and light to the city of Wilmington, the state of Delaware, the nation and the world.
The week long celebration will culminate with our Centennial Anniversary Gala on Friday November 10th at 7pm. The cost for the ticket is $75.00.
Tabernacle has enjoyed a century of service and commitment. It is committed to another 100 years of the same.
Our special guest speaker for the gala is Congresswoman Lisa Blunt Rochester. Lisa has spnt herr life creating opportunity for everyone and being known as a probkem solver. She has served in cabinet postions of two Governors as frst African American woman Secretary of Labor and as Delaware's first African American Deputy Secretary of Health and Social Services and State Personnel Director. Lisa also served as the CEO of the Metropolitan Wilmington Urban League, an action oriented, public policy research think tank on the incluson of people of color.
As Delaware's first woman and African American Congresswoman she continues to fight for the common good for the collective. She loves the Lord and believes her work is founded in a responsibility to the values and ethics of her upbringing.
Nov
18
Sat
Bethel Father Daughter Dinner Dance

@ The Chase Center
Nov 18 @ 5:00 pm – 10:00 pm
Bethel AME Church Sons of Allen Men's Ministry & Delaware Community Foundation
In 2007 the Bethel AME Church Sons of Allen Men's Ministry recognized that there was a significant need for positive male role models to serve as a resource and guide in the development of the girls and young ladies in our community. The logical focus was to start at home with our own daughters by creating a formal event to make our daughter feel special, exemplify our love for them, showcase how they should be valued and how they should value themselves. Thus was the birth of the annual Father Daughter Dinner Dance "An Evening of Elegance," now in its 10th year.