This is an example page. It's different from a blog post because it will stay in one place and will show up in your site navigation (in most themes). Most people start with an About page that introduces them to potential site visitors. It might say something like this:
Hi there! I'm a bike messenger by day, aspiring actor by night, and this is my blog. I live in Los Angeles, have a great dog named Jack, and I like piña coladas. (And gettin' caught in the rain.)
…or something like this:
The XYZ Doohickey Company was founded in 1971, and has been providing quality doohickeys to the public ever since. Located in Gotham City, XYZ employs over 2,000 people and does all kinds of awesome things for the Gotham community.
As a new WordPress user, you should go to your dashboard to delete this page and create new pages for your content. Have fun!
Dec
31
Sun
The Resurrection Center Year End Concert

@ The Resurrection Center
Dec 31 @ 5:30 pm – 9:00 pm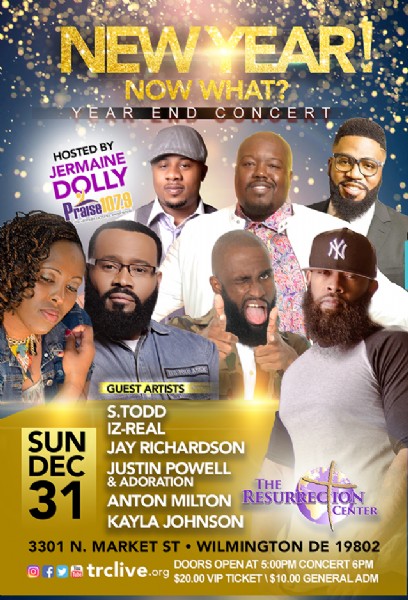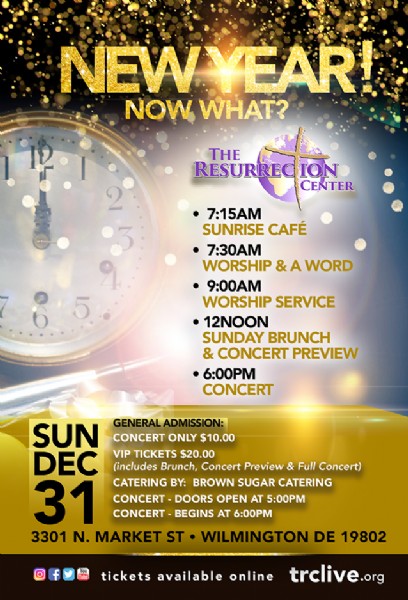 The Resurrection Center Presents A Year End Concert. Hosted by Gospel Artist & Radio Host Jermaine Dolly of Praise Philly 107.9.  Guest Artist include; S.Todd, Jay Richardson, IZ-REAl, Anton Milton, Justin Powell & Adoration and Kayla Johnson.
Jan
15
Mon
A. Phillip Randolph Institute Martin Luther King Prayer Breakfast
Jan 15 @ 8:00 am
Please join the Delaware Chapter of the A. Phillip Randolph Institute for the Dr. Martin Luther King Jr. Prayer Breakfast on January 18th, 2018.
Doors Open at 7:30am. Contact the Delaware chapter to purchase tickets online.
Mar
30
Fri
Sight and Sounds Theatre Presents: Jesus Live on Stage
Mar 30 @ 1:30 pm
Sight and Sounds Theatres presents "Jesus: Live On Stage" on March 30, 2018. Attendees must be 13 or older. The all inclusive event gives audience members the show, dinner and transportation. 
Transportation will depart Dover at 1:30 pm (Big Lots parking lot) and Departs Smyrna 1:45 pm (Smyrna Rest Stop)

Return to same location in Smyrna approximately 11:15 PM & Dover 11:30 pm. 
David Thomas (302) 423-2460
Deborah Adams (302) 535-5484