This is an example page. It's different from a blog post because it will stay in one place and will show up in your site navigation (in most themes). Most people start with an About page that introduces them to potential site visitors. It might say something like this:
Hi there! I'm a bike messenger by day, aspiring actor by night, and this is my blog. I live in Los Angeles, have a great dog named Jack, and I like piña coladas. (And gettin' caught in the rain.)
…or something like this:
The XYZ Doohickey Company was founded in 1971, and has been providing quality doohickeys to the public ever since. Located in Gotham City, XYZ employs over 2,000 people and does all kinds of awesome things for the Gotham community.
As a new WordPress user, you should go to your dashboard to delete this page and create new pages for your content. Have fun!
Dec
21
Thu
@ Reeds Refuge Center
Dec 21 @ 9:00 am – 12:00 pm
Reeds Refuge will be hosting a Youth Against Violence Conference this December at our offices located at 1601 N. Pine Street Wilmington, Delaware. The primary focus of this event is to educate youth regarding violence prevention, rehabilitation, and recidivism.
However, youth will also learn how the effects of slavery and segregation have shaped the mental health of the African American families and minorities in America today. Dr. Christina Watlington who will be speaking on the legacy of slavery and the effects of mental health in black Americans and other minorities today.
Youth will be taking part in open dialog concerning the ancestry of African Americans. The discussion will include heritage and culture, which was removed from minorities, which is important for human development and growth. The activities include break out sessions and panel discussions, which will focus on racial tension in American today including its history.
Our goal is to Educate and Motivate! Youth from all School Districts including adults are welcomed to attend!
Panelist Include:
Dr. Christina & Malik Watlington
Jordan Hines
Tramaine Smith
Bashawn Dixon
Aja A of Dab Mediation
Keith James
Young Setta
El Rod
Wells Fargo's Black African American Team Member Network
Public Defenders Office
Dec
31
Sun
The Resurrection Center Year End Concert

@ The Resurrection Center
Dec 31 @ 5:30 pm – 9:00 pm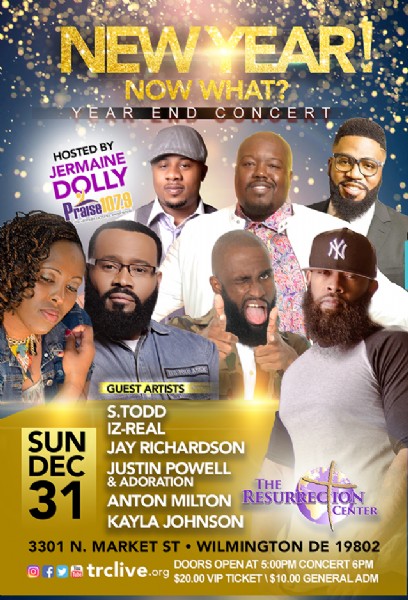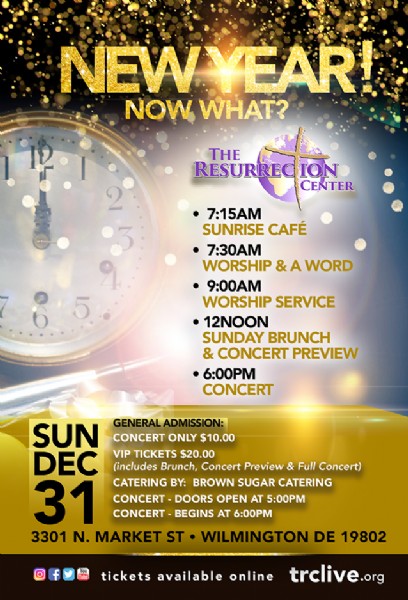 The Resurrection Center Presents A Year End Concert. Hosted by Gospel Artist & Radio Host Jermaine Dolly of Praise Philly 107.9.  Guest Artist include; S.Todd, Jay Richardson, IZ-REAl, Anton Milton, Justin Powell & Adoration and Kayla Johnson.
Apr
13
Fri
The Whispers – Live in Concert

@ Dover Downs
Apr 13 @ 9:00 pm
The Whispers, who have entertained audiences for more than 50 years with their R&B, disco, jazz and pop hits, will perform at Dover Downs Hotel & Casino's Rollins Center on Friday, April 13 at 9 p.m.
Tickets will go on sale at noon on Tuesday, Dec. 5 and can be purchased online at doverdowns.com or by contacting VIP Services at (800) 711-5882. Regular ticket prices range from $35-$55. New in 2018, a limited number of premium tickets are available for $105, which includes a seat in the first five rows from the stage and early admission to the Rollins Center.
To purchase tickets, or for more information on Dover Downs Hotel & Casino events visit doverdowns.com or call VIP services at 800-711-5882.