This is an example page. It's different from a blog post because it will stay in one place and will show up in your site navigation (in most themes). Most people start with an About page that introduces them to potential site visitors. It might say something like this:
Hi there! I'm a bike messenger by day, aspiring actor by night, and this is my blog. I live in Los Angeles, have a great dog named Jack, and I like piña coladas. (And gettin' caught in the rain.)
…or something like this:
The XYZ Doohickey Company was founded in 1971, and has been providing quality doohickeys to the public ever since. Located in Gotham City, XYZ employs over 2,000 people and does all kinds of awesome things for the Gotham community.
As a new WordPress user, you should go to your dashboard to delete this page and create new pages for your content. Have fun!
Oct
27
Fri
Sixth Annual Louis L. Redding Benefit and Awards Gala

@ Hotel du Pont's Gold Ballroom
Oct 27 @ 5:30 pm
The Delaware Barristers Association, is proud to present its sixth Annual Louis L. Redding Benefit and Awards Gala at the Hotel du Pont's Gold Ballroom, 11th and Market Streets, Wilmington, Delaware, on Friday, October 27, 2017 at 5:30 p.m.  The celebration will honor distinguished members of Delaware's government, bar, and community for their work, contributions and commitment to liberty and justice for all.
The Association will recognize and honor the following individuals for their exemplary leadership, commitment, and contributions to the community and legal profession: Governor Jack Markell, for his outstanding leadership and commitment to diversity and social justice before, during, and after his tenure as Governor.  Prior to his election as Governor of the First State, Governor Markell was an executive with Sprint.  Governor Markell also served as Chair of the Board for the Wilmington Urban League.   Governor Markell began his political career as the State Treasurer and held that position for ten years.  Gregory B. Williams,Esquire, for his many years of leadership, professionalism, and service to the Delaware legal community. Williams is a former President of the Delaware State Bar Association.  Williams also served as Chair of the Judicial Nominating Commission for the State of Delaware, and previously served as Chair of the U.S. Magistrate Judge Merit Selection Panel. Principal Salome Thomas-El, for his tireless and trailblazing efforts as a teacher and principal who revolutionized educating young people locally and nationwide based on his belief that "every child needs someone to be crazy about them".
Nov
10
Fri
Tabernacle Centennial Gala

@ Chase Center
Nov 10 @ 7:00 pm – 10:00 pm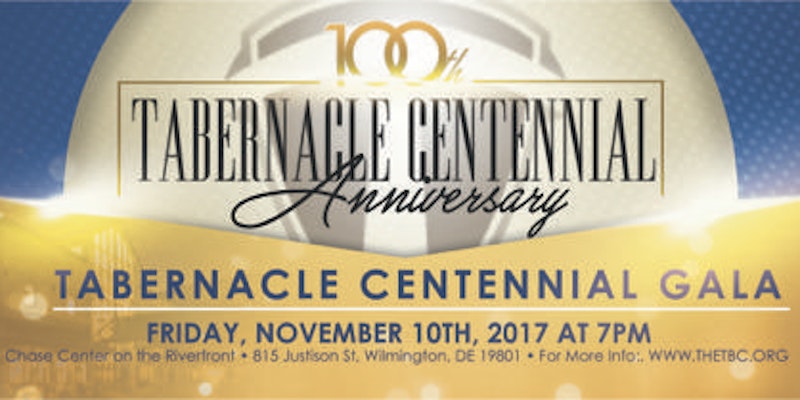 Come Celebrate With Us!
Tabernacle Baptist Church is excited to turn 100 years old and we want to celebrate with you. For a century Tabernacle has been a beacon of hope and light to the city of Wilmington, the state of Delaware, the nation and the world.
The week long celebration will culminate with our Centennial Anniversary Gala on Friday November 10th at 7pm. The cost for the ticket is $75.00.
Tabernacle has enjoyed a century of service and commitment. It is committed to another 100 years of the same.
Our special guest speaker for the gala is Congresswoman Lisa Blunt Rochester. Lisa has spnt herr life creating opportunity for everyone and being known as a probkem solver. She has served in cabinet postions of two Governors as frst African American woman Secretary of Labor and as Delaware's first African American Deputy Secretary of Health and Social Services and State Personnel Director. Lisa also served as the CEO of the Metropolitan Wilmington Urban League, an action oriented, public policy research think tank on the incluson of people of color.
As Delaware's first woman and African American Congresswoman she continues to fight for the common good for the collective. She loves the Lord and believes her work is founded in a responsibility to the values and ethics of her upbringing.
Nov
17
Fri
4th Anniversary Dinner

@ Kingswood Community Center
Nov 17 @ 6:00 am – 9:00 am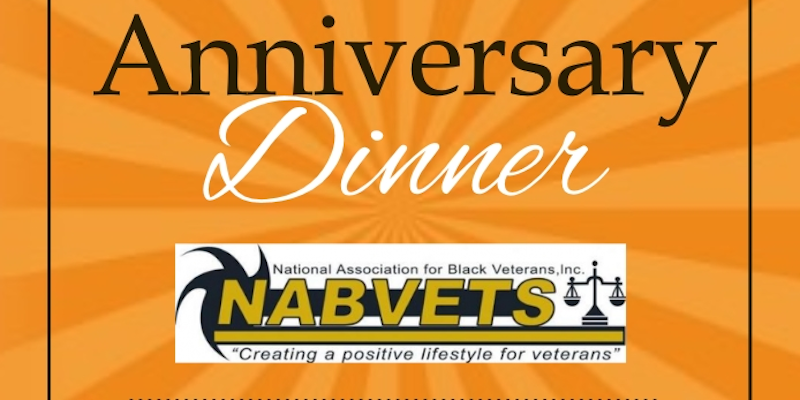 November 2013 the National Association for Black Veterans, Inc. established a 501 (c)(3) non-profit chapter in Delaware. This Delaware affiliate became the ninety-fourth (94th) chapter to join the national umbrella. With original intentions to serve the needs of minority veterans, NABVETS quickly realized a greater need and opened its doors to all veterans.
Annually, Delaware Chapter 94 hosts a fundraising Thanksgiving dinner to raise awareness for veteran issues, connect disadvantaged veterans with an array of community resource, and secure sponsorship for the organization's programs.
This year's Anniversary Dinner is held at Kingswood Community Center – 2300 Bower Street; Wilmington, Delaware on November 17, 2017 at 6:00pm.